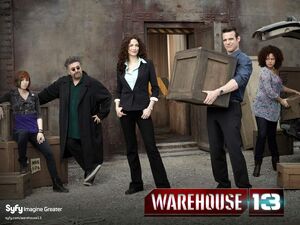 Warehouse 13 is a U.S. television science fiction series that premiered on July 7, 2009, on the Syfy network. Although modern, it fully embraces the Steampunk and Dieselpunk aesthetic.
Description
Edit
The series follows U.S. Secret Service Agents Myka Bering (Joanne Kelly) and Pete Lattimer (Eddie McClintock) when they are assigned to the government's secret Warehouse 13 for supernatural artifacts. It is located in a barren landscape in South Dakota, and they initially regard the assignment as punishment. As they go about their assignments to retrieve missing artifacts and investigate reports of new ones, they come to understand the importance of what they are doing.
In Season 1, Episode 5, they meet Claudia Donovan (Allison Scagliotti), who is searching for her missing brother; in Season 2, she joins the team as their techno-wiz. In Season 3, Episode 1, Steve Jinks (Aaron Ashmore), an Agent from Bureau of Alcohol, Tobacco, Firearms and Explosives (ATF) comes aboard.
Ad blocker interference detected!
Wikia is a free-to-use site that makes money from advertising. We have a modified experience for viewers using ad blockers

Wikia is not accessible if you've made further modifications. Remove the custom ad blocker rule(s) and the page will load as expected.