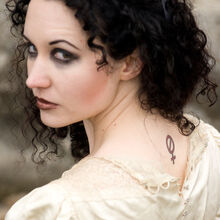 Musician Erica Mulkey, known as "Unwoman",  mixes cello and vocals with electronic influences. The music she creates is difficult to label with an established genre, but contains characteristics of synth pop and goth. Russian goth web-zine Shadowplay describes her music as "dark trip wave".
In the summer of 2006, Unwoman toured briefly with the cello rock group Rasputina. She  is a regular live guest with Vernian Process and has also enjoyed a brief stint with HUMANWINE.
The name "Unwoman" comes from Margaret Atwood's dystopian novel The Handmaid's Tale, and refers to the label given to sterile, feminist, or politically deviant women.
Ad blocker interference detected!
Wikia is a free-to-use site that makes money from advertising. We have a modified experience for viewers using ad blockers

Wikia is not accessible if you've made further modifications. Remove the custom ad blocker rule(s) and the page will load as expected.