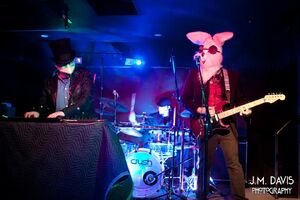 The Velveteen is a Steampunk-inspired band featuring members of Cirque Noir from Ventura, California. Blending rock/metal elements, in a fantastical sci-fi context, scrambled in the genius of Greater Then Zero's (GTZ) Ableton Live steam powered blender.
The Velveteen's first concert took place at 1pm on May 11th 2014 at a cosplay expo after party.
Band Members
Edit
Baron Von Velveteen was the bass player from Cirque Noir. Or that thing from your nightmares. One band wasn't enough to contain him. He also plays guitar and trumpet.
Fum the Puppet sings lead on most songs, but when a little more growl in the vocals is needed, the band turn to theirr new friend, Foe. Foe is also a puppet.
Fum is voiced by Dan Flores offstage, and performed by Claire Flores during live shows.
Foe is voiced and performed by Jason Amelio.
The illustrious Professor Z performs keyboard and electronics. He is also known as GreaterThanZero, or simply Aaron Levitz. The band keeps changing his character to confuse the audience, but he's pretty much just a mad scientist. Go with it.
Rounding out the group is Chris O'Coyle on drums. Chris keeps the beat going, literally. The kinetic energy he generates actually powers all the band's equipment!
External Links
Edit
Ad blocker interference detected!
Wikia is a free-to-use site that makes money from advertising. We have a modified experience for viewers using ad blockers

Wikia is not accessible if you've made further modifications. Remove the custom ad blocker rule(s) and the page will load as expected.