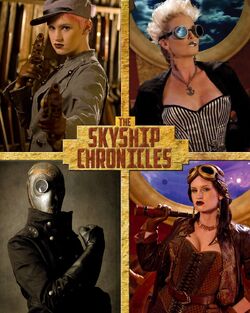 The Skyship Chronicles is a Kickstart project to produce a steampunk film.
A postal clerk is caught between an insane inventor and the daughter of his enemy.
"Produced in Tampa, Florida by award-winning video production company Litewave Media (http://www.litewavemedia.com) - This riveting Steampunk Action Adventure Film unlocks the first chapter in this swashbuckling series. Journey with sky pirates and ingenious inventors on a quest for the world's most powerful invention. Steampunk film fans will be excited to learn there is finally an Independent fan-funded Steampunk movie series coming soon!"
External Links
Edit
Ad blocker interference detected!
Wikia is a free-to-use site that makes money from advertising. We have a modified experience for viewers using ad blockers

Wikia is not accessible if you've made further modifications. Remove the custom ad blocker rule(s) and the page will load as expected.