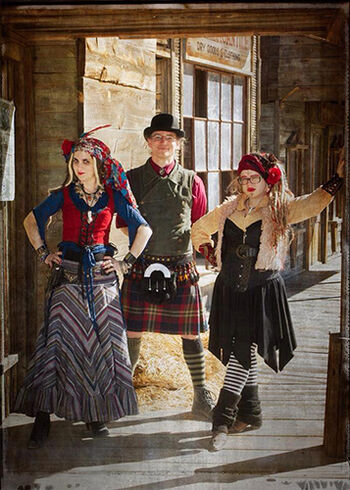 The Nathaniel Johnstone Band hails from Seattle, WA, lead by multi-instrumentalist Nathaniel Johnstone (violin, viola, banjo, mandolin, and guitar). Their vibrant sound crosses boundaries and borders, resulting in a blend of European, Middle Eastern, and South American music with Jazz, Rock, Surf, Folk, Gothic, and Steampunk influences.
Core members of the band include Nathaniel Johnstone, Kate "Dogwood" McKnight - (Voice, Ukulele, Percussion), Tempest (Dance, Percussion, Keyboards) - and they are join by a host of "Usual Suspects" depending on where the band is performing. Some of the incredibly talented folks include: Jim Anderberg - Drums, Erik Brown - Bass, Percussion, Bret Calder - Bass, Tom Coyne - Drums, Gabriel Monticello - Bass, Davis Petterson - Drums, Alyssa Rosenbloom - Vocals, Lyrics. Levi Ali - Percussion, Jody Ellen - Vocals, Evan Evanovich - Accordion, Clarinet, Rachel Gilley - Flute, Peter Gorritz - Guitar, Elizabeth Lain - Oboe, Erica "Unwoman" Mulkey - Cello - and others.
External Links
Edit
Ad blocker interference detected!
Wikia is a free-to-use site that makes money from advertising. We have a modified experience for viewers using ad blockers

Wikia is not accessible if you've made further modifications. Remove the custom ad blocker rule(s) and the page will load as expected.