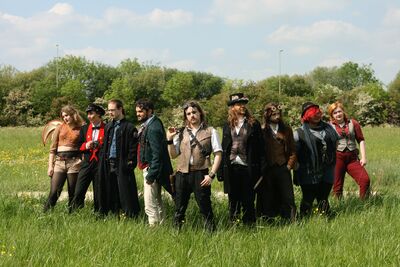 From their website:
A band of immortal space pirates roaming the universe in the starship Aurora. Some say they're from a steampunk future, others claim they're from a cyberpunk past, a few even whisper that they may be from a dieselpunk alternate now. They are all correct.
In their millennia traveling the stars, the crew have seen many strange things. And if you're very lucky when they visit your world, they might not bring death and destruction. They might bring stories and songs instead.
Current Members
Edit
Jonny d'Ville - Vox
Ashes O'Reilly - Vox, Bass
Drumbot Brian - Vox, Drums, Banjo, Accordion, Percussion
The Toy Soldier - Vox, Glockenspiel, Mandolin, Harmonica, Percussion
Gunpowder Tim - Vox, Guitar
Raphaella la Cognizi - Vox, Piano
Marius von Raum - Vox, Fiddle
Nastya Rasputina - Viola, Synthesizer
Ivy Alexandria - Flute, Recorder, Euphonium, Oboe, Trumpet

Previous Members
Scuzz Nishimura - Cello
Drumbot Beta - Drums
Discography
Edit
Studio AlbumsEdit
  Once Upon A Time (In Space) - 2012 Edit
This tale tells of those embroiled in the rebellion against the tyrant of New Constantinople, Old King Cole. It tells of the love of Cinders for her captured Rose, of the treatment of Rose at the hands of Cole's genetic scientists, and of the bold but savage leadership of the rebel General Snow. And it tells of the final fates of all of these.
This is the Mechanisms' first studio album, recording the set which they have been playing live since early 2011 and which they presented at the Edinburgh Fringe Festival in August 2012.
Stream free or purchase at: http://themechanisms.bandcamp.com/album/once-upon-a-time-in-space
  Ulysses Dies at Dawn - 2013Edit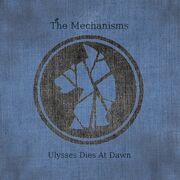 Ulysses Dies at Dawn. That's the word on the street, at any rate, if you talk to anyone who saw what went down at Calypso's Bar the other night. Who is behind the thuggish band known as the Suits - Heracles, Ariadne and the others? What is Ulysses's secret? And what is hidden within the security of the Vault?
This is the second studio album by The Mechanisms, written 2012-2013 and presented at the Edinburgh Fringe Festival in August 2013.
Stream free or purchase at: http://themechanisms.bandcamp.com/album/ulysses-dies-at-dawn
Live AlbumsEdit
High Noon Over Camelot (Live Debut) - 2014Edit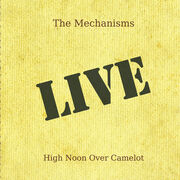 The Pendragon Gang fight to maintain order in Fort Galfridia against the prophecies of Galahad, the violence of Gawain and the revelations of Mordred -- and all the while, the Sun grows hotter... 
High Noon Over Camelot is the third of The Mechanisms' full-length stories. This is a live recording of the debut from the Art Bar, Oxford, 15th February 2014.
Ad blocker interference detected!
Wikia is a free-to-use site that makes money from advertising. We have a modified experience for viewers using ad blockers

Wikia is not accessible if you've made further modifications. Remove the custom ad blocker rule(s) and the page will load as expected.