The Cog is Dead
Comment

1
367pages on
this wiki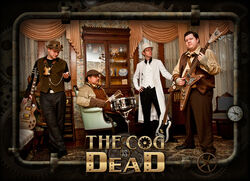 The Cog is Dead is a Steampunk band from DeLand, Florida that plays music of various styles and eras.
Band Members
Edit
Captain John Sprocket (John Mondelli) - Lead Vocals, Guitar, Keyboard, Ukulele, Banjo, Accordion and Kazoo

Sir Christofer Wolfe (Chris Fowle) - Bass, Backing Vocals

Joel (Joel Dennerle) - Lead Guitar, Backing Vocals

Mr. Tony Seville (Tony Mondelli) - Drums
The Cog is Dead was formed in late 2006 by John Mondelli. They decided on the name "The Cog is Dead" after randomly reading those words from a page of the Top Stoppard play, "The Real Thing." Around the same time they decided on the name, the band members became immensely fond of the aesthetic of steampunk. John had seen a steampunk guitar online and fell in love with it, and decided he had to make one of his own. It was shortly thereafter that they decided to apply the steampunk element to the entire band.
At the time of formation, the only other steampunk band they knew of was Abney Park. However the following 3 years saw an immense explosion of steampunk culture in the mainstream and the birth of several other steampunk bands. The band has been working on the recording of their first studio album "Steam Powered Stories" with a spring 2010 release in mind.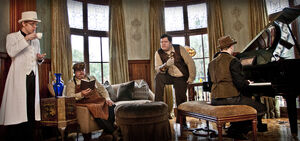 Fictional Backstory
Edit
The members of The Cog is Dead are time travelers from the year 1893. John Sprocket, a clockmaker in Grimsby, England was shocked and disgusted when a rival clockmaker invented an electric digital clock, thus marking the death of the cog. Mr. Sprocket called on his good friend and bennefactor Sir Christofer Wolfe to help assist him in a plan to travel to the future to see if digital clocks were a permanent change or just a fad.
With the help of their mechanic Tony Seville and Joel their Navigator, they built a flying timeship and traveled one hundred years into the future. When they saw that not only were digital clocks extremely prevalent in the world but electricity had become the main source of power, they decided to make it their mission to travel all around the world to various points of time to try to encourage people to stop using digital clocks and switch over the the most beautiful source of energy that has ever existed, steam power. They now travel the world spreading their message for all to hear and performing mechanical melodies and steam powered songs to the masses.
Musical Genres
Edit
The Cog is Dead classify their music as "steampunk" mainly based on the fact that the lyrics of many of their songs have steampunk themes. However, as time-travelers they have been inspired by several kinds of music from many different eras. They primarily consider themselves a rock band, with eclectic styles ranging from Russian Folk Music, Rock n' Roll, Ragtime, Punk Rock, Reggae, Showtunes and Movie Scores to name a few. Though the musical styles may vary, they strive to keep a unified feeling of energy, beauty, and fun throughout all of their songs.
The Music
Edit
Full Steam Ahead (Release date: May 2013)
Edit
Prepare for Adventure

The Iron Horseman

The Toy Soldier

Burn it Down

Darla Dawn the Automaton

Danger on the Dance Floor

Saviour of the Skies

The Ballad of Steward the Sailor

The Metal Boy

Sorrow on the Rails

Dr. Franklyn

The Voyage Home

Prepare for Adventure Reprise
External Links
Edit
Recent Twitter Updates
Edit
From the Band's official twitter stream