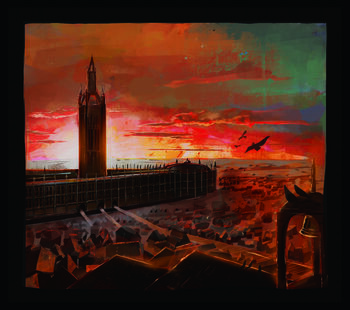 What if the age of rail
came before the age of sail?
"A young and paranoid Queen rules over a large but crumbling British Empire, where war is waged using gigantic battle trains and wounded soldiers are repaired with clockwork."
"Against a backdrop of mutinous generals, brutal secret police, noble plotting and widespread civil unrest, her younger brother - thought dead decades ago after a bloody civil war - returns to claim what is rightfully his."
Description
Edit
The Clockwork Quartet is a multimedia project hailing from London, England. It includes music, games, and an astoundingly beautiful graphic novel available on their website: www.clockworkquartet.com
Ad blocker interference detected!
Wikia is a free-to-use site that makes money from advertising. We have a modified experience for viewers using ad blockers

Wikia is not accessible if you've made further modifications. Remove the custom ad blocker rule(s) and the page will load as expected.