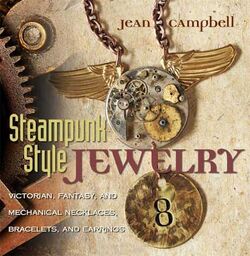 Steampunk Style Jewelry: Victorian, Fantasy, and Mechanical Necklaces, Bracelets, and Earrings is a craft book by Jean Campbell that offers a step-by-step guide to creating steampunk jewelry.
The book is directed at novices in both jewelry-making and steampunk. In addition to instructions on how to make jewelry in general and specific project instructions, Campbell also offers articles on the origins of steampunk, modding, Steampunk culture, Steampunk fashion, Steampunk art, Steampunk music, and Steampunk films.
Ad blocker interference detected!
Wikia is a free-to-use site that makes money from advertising. We have a modified experience for viewers using ad blockers

Wikia is not accessible if you've made further modifications. Remove the custom ad blocker rule(s) and the page will load as expected.