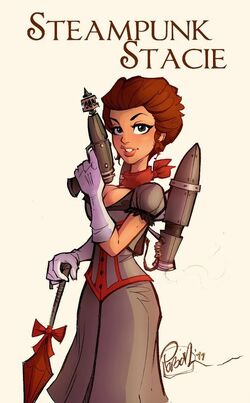 Steampunk Stacie is a sci-fi web series featuring historical settings, dramatic characters and a suspenseful plot line, Steampunk Stacie made its online debut in the fall of 2011.
The story begins in 1913. Set in an alternate, retro-fantasy world. Crime and government corruption have destroyed the hope of Decropolis, a former 'free city'.
Prof. Winkleberry, a watchmaker, begins publishing his illegal newspaper called 'The Liberator' with the help of a local papergirl and her steam propulsion jet pack. The two form a resistance against Lord Blackworth and his evil phantom police agents, enlisting the help of Capt. Ravenhurst and his airship pirates.
External Links
Edit
Ad blocker interference detected!
Wikia is a free-to-use site that makes money from advertising. We have a modified experience for viewers using ad blockers

Wikia is not accessible if you've made further modifications. Remove the custom ad blocker rule(s) and the page will load as expected.