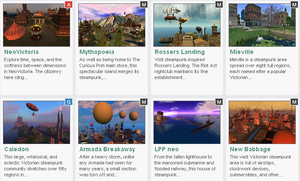 Second Life is an online virtual world developed by Linden Lab. It was launched on June 23, 2003.
Residents can explore the world (known as the grid), meet other residents, socialize, participate in individual and group activities, and create and trade virtual property and services with one another. Second Life is intended for people aged 16 and over, and as of 2011 has about one million active users.
Several "realms" are tailored with steampunk influences.
See also
Edit
External links
Edit
Ad blocker interference detected!
Wikia is a free-to-use site that makes money from advertising. We have a modified experience for viewers using ad blockers

Wikia is not accessible if you've made further modifications. Remove the custom ad blocker rule(s) and the page will load as expected.