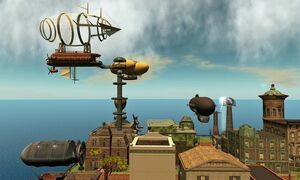 A Second Life Steampunk roleplay community described as:
"Visit steampunk-inspired Rossers Landing. The Riot Act nightclub maintains its fine establishment on the island below the town. Up in the sky, Residents are free to take in the Victorian architecture, floating dirigibles, and all the houses and stores."
Ad blocker interference detected!
Wikia is a free-to-use site that makes money from advertising. We have a modified experience for viewers using ad blockers

Wikia is not accessible if you've made further modifications. Remove the custom ad blocker rule(s) and the page will load as expected.