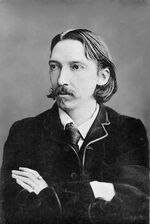 Victorian author who died in 1894 at age 44. He had lung trouble for the whole of his life, which was initially thought to have been tuberculosis; modern assessments vary. Parents were Thomas Stevenson a lighthouse designer/builder and Margaret Isabella Balfour, a lady of the upper crust. Stevenson Married once to Fanny van der Grift in May of 1880.
Stevenson wrote one work that is Steampunk related, and that was The Strange Case of Doctor Jekyll and Mister Hyde. There are no screen plays or Hollywood scripts that remained true to the original story. Most of them never came very close. The novel can be found in any one of several digital formats at the Project Gutenburg. It is well worth the reader's time and trouble to download and read it.
Mister Hyde is very likely the inspiration for the Jagermonsters in Girl Genius.
| | |
| --- | --- |
| | This article suffers from a paucity of information. |
Ad blocker interference detected!
Wikia is a free-to-use site that makes money from advertising. We have a modified experience for viewers using ad blockers

Wikia is not accessible if you've made further modifications. Remove the custom ad blocker rule(s) and the page will load as expected.