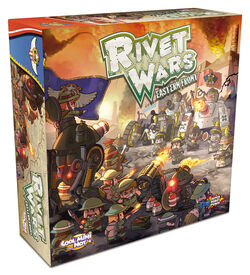 Rivet Wars is a tabletop wargame, designed to look cute, but with lots of dark humor.
Rivet Wars Eastern Front is a steampunk game for table top play based in the cartoonish world of Rivet Wars.
The game is simple and is easy to learn, allowing players to start quickly.
External Links
Edit
Ad blocker interference detected!
Wikia is a free-to-use site that makes money from advertising. We have a modified experience for viewers using ad blockers

Wikia is not accessible if you've made further modifications. Remove the custom ad blocker rule(s) and the page will load as expected.