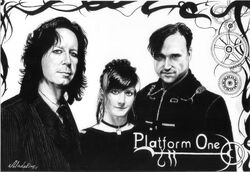 Platform One is a New York based steampunk band.
Description
Edit
[From their website]
"Platform one first came together in Rhode Island in 1999. Now based out of New York this band of highly energetic musicians brings together danceable beats, well thought out lyrics, and an appeal that crosses all genres. A combination of pop, gothic and alternative with a side of oontz, Platform one ranges in influence from And One to The Psychedelic furs, and Peter Gabriel to The Cure. They've spent the last few years playing festivals and conventions, from steampunk to goth, all over the Northeast with forays to the West Coast and New Orleans."
V. Nigel Taylor
Daniel Gill
Allison Lahikainen
Jesse Dunstan
External Links
Edit