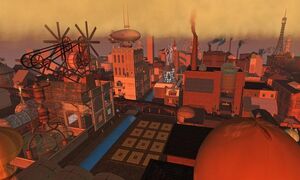 A Second Life roleplay community: This vast Victorian steampunk area is full of airships, clockwork devices, submersibles, and other amazing technology. It's an ideal place to explore life as it was in the 19th century.
January 2007, Founded by Shaunathan Sprocket.
January 2007, New Babbage formally becomes an ally of the Independent State of Caledon.
March 2007, New Babbage formally allied with Iguana State and Neualtenburg.
November 2008, Clockspire Cove, a homestead sim built as the lair of Doctor Obolensky, sunk back into the sea during the openspace sim fires.
February 2009, New Babbage informally exchanges flags with Armada and the City of Steelhead.
Babbage Square (first sim)
Babbage Canals
Port Babbage
Vernian Sea
Babbage Palisade
Wheatstone Waterways
New Babbage "Number Seven" (March 1, 2009)
Clockhaven (July 4, 2009)
Vernian Deep (July 4, 2009 homestead)
Academy of Industry
External links
Edit
Ad blocker interference detected!
Wikia is a free-to-use site that makes money from advertising. We have a modified experience for viewers using ad blockers

Wikia is not accessible if you've made further modifications. Remove the custom ad blocker rule(s) and the page will load as expected.