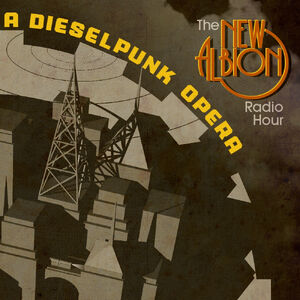 The New Albion Radio Hour: A Dieselpunk Opera, is a three act musical written by Paul Shapera. It follows the O'Brien family and serves as a sequel to The Dolls of New Albion. The musical takes place roughly 10 years after Solider 7285's rebellion and covers the falling city of New Albion as it plunges into civil war.
The show features four singers who have the dominate roles of the play. The female lead of Constance is sung once again by Lauren Osborn. The main male lead is sung by Oliver Marsh who plays John O'Brien. The other female role is sung by Courtney Ellis, who plays Jacqueline O'Brien. The narrator of the play is Lloyd Allen, who is voiced by Paul Shapera.
The 1st Act covers John O'Brien and his life of misfortune as a super solider. The 2nd Act follows Constance O'Brien, a seductive thief who plans on toppling the government and their plans. The 3rd and final Act follows Jackie, closing the story with an all out battle.
Each act slowly leads into the next, leading up to the ultimate finale.
Characters
Edit
Main Characters
Edit
Lloyd Allen - The Radio Host and Narrator
John O'Brien - The father of Constance and a government super soldier
Jacqueline O'Brien - The sister to John, and a Voodoopunk Priestess
Constance O'Brien - Spy trying to take down the government
Thomas - Constance's boyfriend and government double-agent
Side Characters
Edit
Blood Red Dogs - Government funded military force
Voodoopunks - A subculture religion fusing Haitian voodou and Celtic fae myths