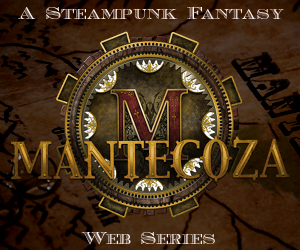 Mantecoza is an action-adventure comedy web series filmed in Phoenix, Arizona. It tells the story of Sebastian King, an average office worker who must go from being a website wizard on Earth to being a true Ring Wizard in the magical steampunk world of Mantecoza.
Mantecoza tells the humorous adventures of Sebastian King (Played by Toby Ambrose), the newly christened Ring Wizard of the steampunk world of Mantecoza.
Sebastian is a dime-a-dozen office drone, who struggles to stay interested in his mind-numbing job. To make matters worse, he finds himself trying to keep his sister out of jail while attempting to find his mother a decent group home.
It seemed nothing would change for Sebastian, until that fateful night when he received a ring with a mystic word of power. Now he finds himself pitched headlong into the fantastic and magical neo-victorian world of Mantecoza. Once there he is declared the Ring Wizard. As Ring Wizard, he is tasked with defending both his world as well as Mantecoza from the machinations of the evil Lord Barr (Played by Vince Maeder) and his murderous minions.
Assisting him with her guidance as well as her blade is the beautiful Lady Chenna Danbeau (Played by Katherine Stewart), the Minister of Wizard. It is Lady Denbeau's duty to keep Sebastian alive long enough to master the powers of the Ring.
Also joining him on his journey are his kleptomaniacal younger sister, Raven (Played by Mallory Adams) and his medieval re-creationist buddy, Joe Kayze (Played by Tommy Schaeffer).
Toby Ambrose: Sebastian King
Katherine Stewart: Lady Chenna Danbeau, Minister of Wizard
Tommy Schaeffer: Joe Kayze
Mallory Adams: Raven King
Vince Maeder: Lord Barr
Marshall Glass: Durrus
Will Leon: Goon 2
Chris Michael Dennis: Goon 1
Judy King: Nancy Mercurio
Sally: Tracy Timm
Laura Durant: Lady Dovedale
Official Sites
Edit
Ad blocker interference detected!
Wikia is a free-to-use site that makes money from advertising. We have a modified experience for viewers using ad blockers

Wikia is not accessible if you've made further modifications. Remove the custom ad blocker rule(s) and the page will load as expected.