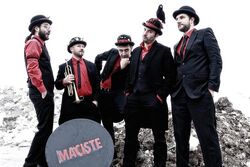 Maciste is a small group of French speaking musicians who seem to have named themselves after an Italian movie hero. They are heavily influenced by French jazz.
Maciste album for sale Product DescriptionEdit
Maciste album for sale was released Dec 15, 2009 on the CD Baby label. After a variety of collateral activities and senseless oddity, here materializes Maciste, protoband in derby, willing to entertain you with disjointed little marches and old-fashioned waltzes. The sound is an amalgamation of big band, ska, gypsy, Tom Waits snarl, outlaw attitude, and dark cabaret. Maciste international appeal is felt heavily throughout the album mixing the thunderous party band horns with rich arrangements while staying accessible enough to still be a rock album.
External Links
Edit