Lee Presson and the Nails
(also known as LPN) is a swing band that formed in the San Francisco Bay Area in October 1994 during the late '90s swing revival. LPN differentiated themselves from other bands of the late '90s swing revival by their wacky stage antics and the sinister appearance of band leader Lee Presson. The San Francisco Chronicle described LPN in 1996 by coining the term "Goth Swing."
LPN temporarily disbanded in 2004 when Lee Presson moved to Hollywood, where he played keyboard for the
Oingo Boingo
tribute band
Dead Man's Party
. After a two-year hiatus, LPN reformed.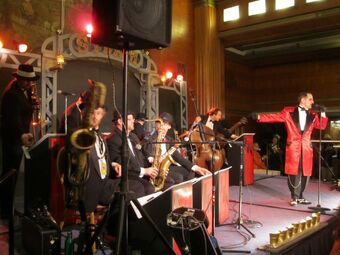 Steampunk audience
Edit
In recent years, the quirky swing band has found a new audience in the steampunk/dieselpunk community on the West Coast, headlining in 2012 at the Nova Albion Steampunk Exhibition in Santa Clara, CA in 2011, and at Her Royal Majesty's Steampunk Symposium at the Queen Mary in Long Beach, CA in 2012, 2013 and 2014. They recently were a headlining act at Steamstock in Richmond, CA in 2013. They also recently released an album of ballroom standards entitled Balls In Your Face.