La Frontera Victoriana (the Victorian Frontier) is a steampunk band.
---
Music-Style: Dreamweaving (Hard-)Rock with pushy Beats from the Years of the Fourth Woormwood War... huh?
Read on!
http://la-frontera-victoriana.de/
La Frontera Victoriana, a time-travelling Airship-Crew from Germany, who happen to make Music, opened in Sofia (Bulgaria) for Rammstein(2013, Sofia Rocks) and played with Aurelio Voltaire during the german leg of his Tour in Winter 2014.
But there is much more to this motley crew than their musical Skills and their catchy Songs (sung in German)...
The Group's Background-Story is settled in the Years after the 4th
War on Wormwood -
somehow closely linked to
your
19th Century, yet slightly different... The Group was entiteled to undertake a long expedition with their Airship, the
La Frontera Victoriana
, looking for human Intelligence and common sense. Yet their Board Engineer,
Friederich Eugenius,
is said to have blown the
LFV
to smithereens. He to this day denies any knowledge about this.
The Airship-Crew now has to make a living of playing big and small Venues (in 2016 they played alongside Drachenflug and Aeronautica) - yet during a malfunctioning device their Captain bought from a dubious Salesman, they're now travelling in time, not fully aware of it.
And thus, you might meet them in the flesh, soon - in YOUR time and space.
Captain Mittka auf der Nebelweide [1], Pilot Ronald von Nankofen [2], Prospector Isidior von Gruvenstein [3] and said Engineer Friederich Eugenius [4] might soon be playing near YOUR City, - check teir Page on the Aethernet and their Social media (facebook, twitter, Instagram) for their upcoming Album and tourdates. And yes, they all keep a diary there, only in german.. Yet!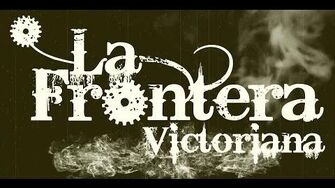 Ad blocker interference detected!
Wikia is a free-to-use site that makes money from advertising. We have a modified experience for viewers using ad blockers

Wikia is not accessible if you've made further modifications. Remove the custom ad blocker rule(s) and the page will load as expected.