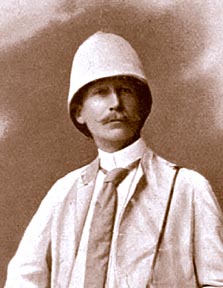 George Chetwynd Griffith-Jones, better known as George Griffith (1857-1906), was a prolific British science fiction writer and noted explorer who wrote during the late Victorian and Edwardian age. Many of his visionary tales appeared in magazines such as Pearson's Magazine and Pearson's Weekly before being published as novels. Griffith was extremely popular in the United Kingdom, though he failed to find similar acclaim in the United States, in part due to his revolutionary and socialist views. A journalist, rather than scientist, by background, what his stories lack in scientific rigour and literary grace they make up for in sheer exuberance of execution.[1]
Influence
Edit
George Griffith is often accused of being Anti-American and this is cited as the reason that he is not very well known in the United States. However, after reading one or two of Griffith's works it can be said, almost without reserve, that he was not Anti-American in his literary outlook. Just the contrary, he has one of his main characters marrying an American woman whose father had made important breakthroughs in the field of physics while still living. His father-in-law died before he could build a spaceship (Imaginatively named, Astronef, which is French for spaceship) based on the ideas this American related to him.
What was in fashion at the time when Griffith began writing was Fabian Socialism. Griffith was more of a Bolshevik in his outlook. He was basically anti-Russian and anti-French, which meant that he was a bundle of conflicting notions. He was, at one and the same time, an anti-monarchist and an anti-republican, while being staunchly pro-British, which implies that he actually liked the idea of having a ruling class to fawn over. To him, they must have been very much like a collection of pets that tended to bite him once in a while, thereby keeping him on his toes. In essence, he was almost a communist rather than being a simple socialist. This made him unsuitable for an American audience in the eyes of his publisher, Sir Arthur Pearson.
Of Sir Arthur Pearson it could be said that he was the rough equivalent of Rupert Murdoch in the nineteenth and early twentieth centuries. He more or less forced his way into the news and entertainment business under very hostile conditions. One might also consider him to be the Ted Turner of the nineteenth century. Mister Turner having done about the same thing that Mister Murdoch has done in the latter half of the twentieth century. No matter which of the modern figures one is inclined to compare Sir Arthur with, the one thing he had in common with the media moguls of today is the attention he paid to his business. He always put his business first above all else.
Pearson's Weekly was, after all, the engine that laid the golden eggs. These golden eggs allowed Sir Arthur and his entertainment authors such as Upton Sinclair, George Bernard Shaw, Maxim Gorky, George Griffith, C.J.Cutliffe Hynes, and H.G. Wells to prosper--or at least survive as authors long enough to get their careers started. It is of little surprise then that Sir Arthur moved on to a more suitable author as soon as one came available. That someone was none other than H. G. Wells. Coarsely put, the work of Mister Griffith-Jones could never hold up when compared to the work of Herbert George Wells or even Jules Verne. Verne was, by the time Pearson's Magazine got started, an already well established and a famous author. More importantly, Verne only wrote in French. So, Sir Author was happy to sign up H.G. Wells when he got the chance.
Wells did not replace Griffith altogether, but Griffith never again wrote any fiction for Sir Arthur Pearson. Instead, he did normal reporting as a travelling correspondent along with travelogues from around the world in response to Sir Arthur's requests. Most of George Chetwynd Griffith-Jones's fiction can be found on the Gutenberg Project. Be sure to check the Steampunk Wiki Literature pages from time to time. There will be articles on individual works by George Griffith posted there as they are written.
Partial List of Griffith's Works
Edit
The Romance of Golden Star (1891)
Briton or Boer? A Tale of the Fight for Africa (1892)
The Angel of the Revolution: A Tale of the Coming Terror (1893)
Olga Romanoff or, The Syren of the Skies (1894)
The Outlaws of the Air (1895)
Valdar the Oft-Born: A Saga of Seven Ages (1895)
The Gold Finder (1898)
The Virgin of the Sun: A Tale of the Conquest of Peru (1898)
The Great Pirate Syndicate (1899)
Denver's Double: A Story of Inverted Identity (1901)
A Honeymoon in Space (1901)
The White Witch of Mayfair (1902)
The Lake of Gold: A Narrative of the Anglo-American Conquest of Europe (1903)
A Woman Against the World (1903)
The World Masters (1903)
A Criminal Croesus (1904)
The Stolen Submarine: A Tale of the Japanese War (1904)
The Great Weather Syndicate (1906)
The Mummy and Miss Nitocris: A Phantasy of the Fourth Dimension (1906)
The World Peril of 1910 (1907)
The Destined Maid (1908)
The Sacred Skull (1908)
The Diamond Dog (1913)
Notes & References
Edit
↑

From cited Wikipedia Article
Ad blocker interference detected!
Wikia is a free-to-use site that makes money from advertising. We have a modified experience for viewers using ad blockers

Wikia is not accessible if you've made further modifications. Remove the custom ad blocker rule(s) and the page will load as expected.