Escape the Clouds is a steampunk band that tells stories through gritty, energetic music and lyrics. It has often been compared to Abney Park, Clockwork Dolls, and Vernian Process.
The project consists of multi-instrumentalist Mark Rossmore, with occasional guest vocalists such as Eli August and Unwoman. As essentially a solo artist, Rossmore writes and produces all of the music himself, designs all of the artwork, and manages the project's official web site: EscapeTheClouds.com.  
Each album features an eclectic mix of instrumentation. Taiko drums, heavy guitars, synthesizers, driving bass, lilting piano lines, and more lie underneath spoken and sung vocals. 
Album Releases
Edit
Since 2009, Escape the Clouds has released three albums of steampunk music. Bring the Rain is entirely instrumental and bridges the space between electronic, industrial, and world music.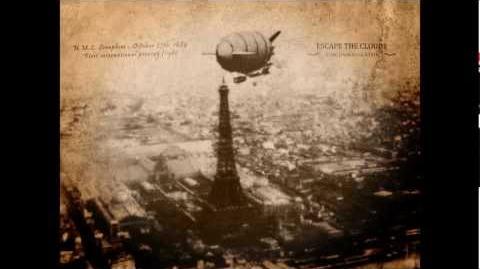 Circumnavigator followed in 2010, and is a half-vocal concept album about an adventurer circling the globe to save his lost love. Each of the album's six instrumental tracks are written to convey specific moods or scenes, such as a zombie attack or Native Americans struggling for survival against westward expansion.
The most recent album, Until the End, continues the storytelling tradition, giving life to fantastical steampunk characters and places through its music and lyrics. The album features two collaborations: Unwoman on vocals for "Lady in Waiting" and Eli August's lyrics and vocals on the bonus track "Into the Light". 
A free dieselpunk-themed sampler EP titled "One Bullet" was released in late 2012 in honor of International Dieselpunk Day celebrations. It can be downloaded at Escape the Clouds' Bandcamp site.
Escape the Clouds has also been featured on several compilations, including:
Escape the Clouds has released five music videos. Each was produced, filmed, and edited entirely by Rossmore, using remote-controlled cameras and monitoring equipment. Aviation and social issues are recurring themes in his productions.
Community Involvement
Edit
For two years in a row, Mark has been a Dragon*Con Alternate History Track panelist, lending his knowledge on topics such as Jack the Ripper, filmmaking, and music production. He also documents the Dragon*Con steampunk bands via photography and video.
In mid-2012, he launched the web site Steampunk-Music.com , featuring interviews, articles, and reviews covering steampunk musicians from around the world. 
Mark has also had several steampunk and horror stories published, including:
"Dead Air" in Realms of the Undead
"Russian Shadows" in Penny Dread Tales Vol. 2
"Iron Jack" in The Red Penny Papers
"Hunting the Future" in Steampunk Tales
"A Grain of Sand" in Steampunk Tales
"Day 483" in The Best of Every Day Fiction