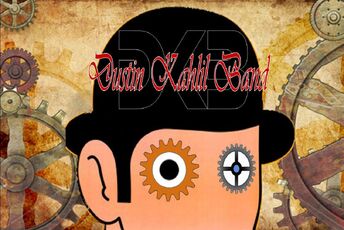 Dustin Kahlil Band (DKB) is an indie rock musical group based out of Biloxi, MS. The band is a "time traveling group of cohorts" from the year 1899.
Current members
Edit
Captain Dustin "Five Eyes" Kahlil (vocals, guitar, keyboard)
Steve "Doc Harloe Day" Mills, Medical Officer (guitar, vocals)
"Mr Professor" Jason Milliken, Chief Science Officer (bass)
John "Quave", Chief Engineer (drums, vocals)
Influences and Sound
Edit
The band's influences include Jeff Buckley, Tom Waits, Leonard Cohen, The Beatles, Radiohead, U2, Prince, Suzanne Vega, Kate Bush, Misfits, Dire Straits, The Cure, and Muse.
Their sound has been compared to The Killers, Franz Ferdinand, Jeff Buckley, and Joy Division.
Achievements
Edit
DKB recently won Hard Rock Rising Battle of the Bands 2012 in Biloxi. The band went on to compete with other winners worldwide. The group ended with 6999 votes, coming in fourth place worldwide and first place in the United States. DKB will now move onto the next phase of the competition to be judged with the top 10 bands competing for a spot to play the annual Hard Rock Calling music festival in London.
Discography
Edit
To this date, the band has released one EP, "Side A". The album is available on ReverbNation to download.
Track Listing: 1. Bad Girls 2. Do You Wanna? 3. The Fire 4. January 5. Dick 6. Wired
Dustin Kahlil also released a solo album in 2010 titled "Looks Good in Hats..." which the band occasionally plays from. The album is available on iTunes.
Track listing: 1. Bless Your Heart 2. Feel Your Ghost 3. Tear Into Me 4. No Soul 5. It's Over 6. The Truth 7. To Wear a Badge 8. One Through Nine 9. Ballad for the Dead 10. An Empty Place
Live covers include Franz Ferdinand's "Take Me Out", The White Stripes' "Seven Nation Army", and Lady Gaga's "Bad Romance", among others.
External Links
Edit
References
Edit