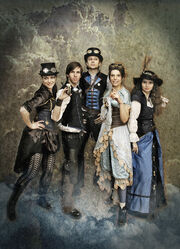 Drachenflug is a German steampunk band that has a website with their videos on Webshots. The German word drachen means "kite" or "dragon" in English and the German word flug means "flight".
The video explains a great deal.
Promotional Blurb
Edit
With cylinder and corset Drachenflug invite you to a musical rendezvous through time and space.
The German Steampunk band leads you into the temptation of a new world.
With Steam the ensemble powers the dream factory and makes atmospheres of endless blue.