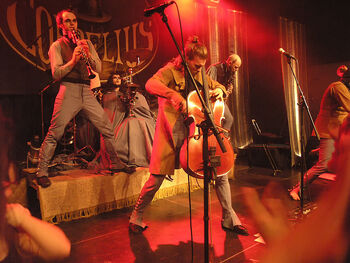 Coppelius is a German band that plays "metal" music on classic instruments while dressed in Victorian-Edwardian era costumes.
According to their own (fictional) band history, they met for the first time in 1793 during the debut performance of Mozart's The Magic Flute and played their first concert in 1803.
Bastille (Lyrics)
Comte Caspar (lyrics, clarinet, cembalo)
Max Coppella (lyrics, clarinet)
Sissy Voss (double bass)
Graf Lindorf (lyrics, cello)
Nobusama (drums)
Discography
Edit
Albums

2007: Time-Zeit
2009: Tumult
2010: Zinnober
2013: Extrablatt
2015: Hertzmaschine

EPs

2003: Coppelius
2004: 1803
2005: To My Creator
2005: Frühe Werke (box set of all three EPs)

Videos
External Links
Edit
Coppelius has a channel on YouTube.