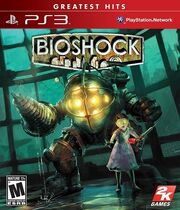 BioShock is a first-person shooter video game developed by Irrational Games. Set in an Dieselpunk alternate history 1960, the game places the player in the role of a plane crash survivor named Jack, who must explore the underwater city of Rapture, and survive attacks by the mutated beings and mechanical drones that populate it.
External Links
Edit
Ad blocker interference detected!
Wikia is a free-to-use site that makes money from advertising. We have a modified experience for viewers using ad blockers

Wikia is not accessible if you've made further modifications. Remove the custom ad blocker rule(s) and the page will load as expected.