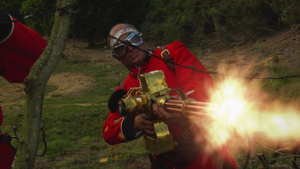 Arms Race: Escalation is a 2012 steampunk action adventure short film, web miniseries and comic book set during the Crimean War.
The short film and series is produced by It's a Trap productions, and is directed by Nigel Clegg, based on a script by Chris Burdett. It stars Neil Dabson as "Captain Clinton", Chris Burdett as "Private Higson", and Wayne Bolt as "The Gunner".
The series in its entirety, as well as the short film, can be seen at the official site.
External Links
Edit
Ad blocker interference detected!
Wikia is a free-to-use site that makes money from advertising. We have a modified experience for viewers using ad blockers

Wikia is not accessible if you've made further modifications. Remove the custom ad blocker rule(s) and the page will load as expected.