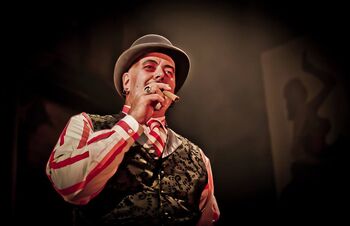 Voted one of the top 50 performers of 2012 & one of the top 8 male performers of 2013 by 21st Century Burlesque Magazine...

Armitage Shanks is one of the most sought after performers on the International Cabaret scene, with credits that include Sublime Boudoir, Cirque Rouge (Vienna), Stockholm Burlesque Festival, Maskenball (Basel), the London Burlesque Festival, Amsterdam Burlesque Festival, Paleis Van De Weemoed, The Supper Club (Amsterdam), Carnevale di Viareggio (Tuscany), Micca Club (Rome), Salon Parisien (Milan), Gruenspan & Queen Calavera (Hamburg), La Fete Fatale (Berlin), Paradiso Tanzbar (Munich) and Cabaret des Filles de Joie (Paris).
In North America, performances have included the New Orleans Burlesque Festival, the Toronto Burlesque Festival, ABSFest (Asheville), NY Burlesque Festival, Richmond Burlesque and Sideshow Festival, Le Scandal (NY), The Slipper Room (NY), Little Minsky's (SF), Lannie's Clocktower (Denver), Hotel Tryst (Toronto), Carnival Burlesque (Quebec),  "The Beggar's Carnivale" (St. Louis), Festival of Doom (South Carolina), CA's "Ink N' Iron Festival and the touring show, "Sin on Heels".   He is a regular host of the Pink Door Cabaret in Seattle.
Armitage Shanks is the creator and artistic director of "Carnivalesque", a traveling circus, burlesque sideshow.  
He is the co-founder and Ringmaster of Circus Contraption, a one-ring traveling circus at the forefront of the "New Circus" movement, which toured both nationally and internationally for over 12 years.[1]
He has a starring role as "Johnny Valentine" in the 2012 feature film, "The Burlesque Assassins".[2]
Armitage Shanks is the co-author & director of The Handsome Little Devils, "Squirm Burpee- A Vaudevillian Melodrama", which was performed in November 2010 for a three week run "Off-Broadway", at the New Victory Theater in New York City's Times Square Theater District.[3]
Shanks is also the director and creative consultant for Alternacirque's production of "1001 Arabian Nights".
He was the Performance Director for the Seattle Erotic Art Festival in 2011-2012.
He has directed Zero Boy's, "A Trip To Coney Island With Uncle Zero Boy" and "Revolt, Death & Taxes, an American Revolution" as well as sold-out shows for Can Can Cabaret, including "Viva Oz Vegas" starring El Vez, and "The Breaking".
He is the Artistic & Show Director for the School of Acrobatics and New Circus Arts (SANCA) annual gala, "Up, with a Twist". 
Armitage Shanks is also the Co-Owner of "FuturePerfect Productions", an event production & talent placement company.  He has created and produced events for such clients as Microsoft, Amazon, Adobe, Pop Cap Games, International Special Events Society, Vangard Events, Sensorium, Evergreen Medical and many more.
He has served as a Teaching Artist with Arts Corps, a non-profit organization that provides quality arts learning opportunities to youth, regardless of resources or income.
Armitage Shanks offers both workshops, master classes and private consultation on stagecraft, act creation, performance techniques and becoming an MC/Host.
Armitage Shanks was featured in the January 2009 issues of PLAYBOY France & Italy. 
He was the subject of featured interviews in Pin Curl Magazine [4] and Dans (Netherlands).
Review Quotes
Edit
"One of the darkest-hearted Comperes on the Burlesque/Cabaret circuit"
- TIME OUT LONDON
"A Cabaret Legend"
- LE COOL MAGAZINE, DUBLIN
"A voice like honey-coated gravel. He was a sinister and louche presence, who put some sex in the air."
- DAN SAVAGE
"The magical and enchanting Armitage Shanks guided us through the Amsterdam Burlesque Festival. He sang, joked and regaled the audience- touched and amused, they couldn't hold back from clapping, cheering and shouting their hearts out."
- QUEERLESQUE MAGAZINE, GERMANY
"Relentlessly Suave"
- THIS IS CABARET
"In the Pantheon of all-time, great talkers"
- SHOCKED AND AMAZED
External Links
Edit
Ad blocker interference detected!
Wikia is a free-to-use site that makes money from advertising. We have a modified experience for viewers using ad blockers

Wikia is not accessible if you've made further modifications. Remove the custom ad blocker rule(s) and the page will load as expected.