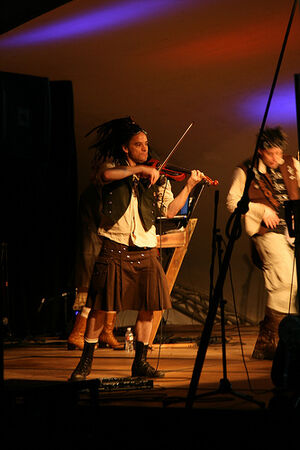 Abney Park is a Steampunk musical group based out of Seattle, Washington. Their name comes from the Abney Park Cemetary in London.
Current Members
Edit
Kristina Erickson: keyboards
Jody Ellen: backup vocals
Titus Munteanu: Violin
Josh Goering: Guitar, banjolele
Daniel Cederman: bass
Abney Park was formed by Robert Brown in 1997. In 1998 they released their first full-length album Abney Park, and in 1999 they released Return to the Fire. Tracks from these two albums, as well as a couple of new ones, formed their third release; Cemetery Number 1. Their first steampunk album, Lost Horizons, came out in 2008, followed by another one in 2009; Aether Shanties and in 2010, End of Days. They then released Off the Grid in 2011, which features acoustic remixes of previous songs, and then Ancient World in 2012, plus Through Your Eyes on Christmas Eve, a 2012 Christmas Album. 
Ad blocker interference detected!
Wikia is a free-to-use site that makes money from advertising. We have a modified experience for viewers using ad blockers

Wikia is not accessible if you've made further modifications. Remove the custom ad blocker rule(s) and the page will load as expected.