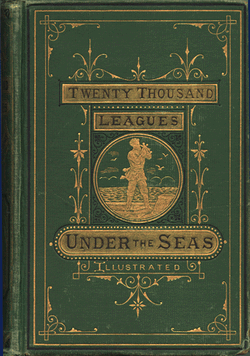 Twenty Thousand Leagues Under the Sea (French: Vingt mille lieues sous les mers: Tour du monde sous-marin, literally "Twenty Thousand Leagues Under the Seas: An Underwater Tour of the World") is a classic science fiction novel by French writer Jules Verne published in 1870. It tells the story of Captain Nemo and his submarine Nautilus, as seen from the perspective of Professor Pierre Aronnax after he, his servant Conseil, and Canadian whaler Ned Land wash up on their ship. On the Nautilus, the three embark on an undersea journey which takes them around the world.
The novel was originally serialized from March 1869 through June 1870 in Pierre-Jules Hetzel's periodical, the Magasin d'Éducation et de Récréation. The deluxe illustrated edition, published by Hetzel in November 1871, included 111 illustrations by Alphonse de Neuville and Édouard Riou. The book was highly acclaimed when released and still is now; it is regarded as one of the premiere adventure novels and one of Verne's greatest works, along with Around the World in Eighty Days and Journey to the Center of the Earth. The description of Nemo's ship, the Nautilus, was considered ahead of its time, as it accurately describes features on submarines, which at the time were very primitive vessels. Thus, the book has been able to age well because of its scientific theories, unlike some other of Verne's works, like Journey to the Center of the Earth, which are not scientifically accurate and serve more simply as adventure novels.
Influence
Edit
Published in 1870, it is thought of today as perhaps Jules Verne's greatest work. In it Verne depicts a submarine with technologies that weren't seen until decades later (Or not even created yet). Written from the perspective of Professor Pierre Arronax, it is a classic that has stood the test of time.
Rumor of a sea monster has spread around the world when several ships are sunk. Many believe it to be a large whale or narwhal, but when the "monster" appears too big to ignore, a expedition is sent out to find it. Professor Arronax and his assistant Conseil are asked to join the expedition, due to the professor's expertise in nautical organisms. But after searching endlessly for a monster, they see something: it's large and glowing, and then slams into their vessel's (the Abraham Lincoln) side. The ship goes down and the professor, Conseil, and their whaler friend Ned Land, are taken out to sea, only to find salvation on the back of the thing they were looking for. They then discover that this was no animal of flesh and blood but a huge metal submersible craft. They are captured and held by the enigmatic Captain Nemo; a mad scientist and renegade who has sworn off all contact and acceptance from society. From then on, it is non-stop adventure: from a cannibal attack to shark attack, from an expedition to the South Pole to a meeting with a giant squid; the list goes on and on.
Ad blocker interference detected!
Wikia is a free-to-use site that makes money from advertising. We have a modified experience for viewers using ad blockers

Wikia is not accessible if you've made further modifications. Remove the custom ad blocker rule(s) and the page will load as expected.